Current Events and Press Releases
Recieved today 10/01/2002: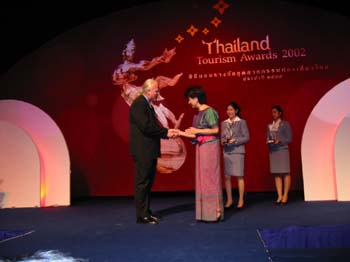 On September 27th, 2002, Queen Sirkit Convention Center, Bangkok, Thailand Dr. Anthony James was received the prestigious "Friend of Thailand" award. Dr. James was given the award in recognition of his work and contributions in the field of Traditional Thai Medicine and Thai Massage Therapy. His accomplishments include: publishing the first book on Thai Massage in the english language "Nuat Thai, Traditional Thai Medical Massage", Metta Journal Press, 1984. Becoming the first licensed Thai Massage practitioner in the United States (Dekalb County, GA 1984), The first recognized Thai Massage Instructor in the US, AOBTA 1990 Member #37), Founder and President of ITTA, the International Thai Therapists Association ,(1992). Organizer and leader of "The Thailand Externship Training Program for non -thai practitioners" 1986 to present, his contribution to Prime Minister Thaksins "Task Force For Traditional Medicine in Thailand" (1998 to present), Chief Thai Massage consultant Thai Consulate USA(1998 to present), Founder, Director and Chief Instructor of the only 3000 hr., professional, full time, residential training and certiication program based on Traditional Thai Yoga medicine in the west "Thai Yoga Center", Plant City , Florida, USA".
The award presented by Prime Minister Thaksins Royal Thai Gov't, TAT, Tourism Autority of Thailand, was jointly issued in recognition of ITTA as well for promoting Thai Culture and Tourism in Thailand. Over 2000 dignitaries and representitives of Thi Gov't and industry were in attendance at the award. The award itself was presented by Mrs. Juthamas Siriwan, Govenor General, Tourism Authority of Thailand.
This award notes the first such formal international recognition by the Royal Thai Gov't for Traditional Thai medicine and Thai Massage for a Non-Thai Instructor and practitioner. It is also the first award for a professional organization (ITTA) in representing Thai Massage in the west.
Congradulations to Dr. Anthony B. James and all who contributed to this prestigious award.
For more information and pictures of this award ceremony go to: Award Slide Show
CopyRight© 2004
This page last updated 12/12/2009